Heavy Metals vs. Metals Test
Oct 21, 2022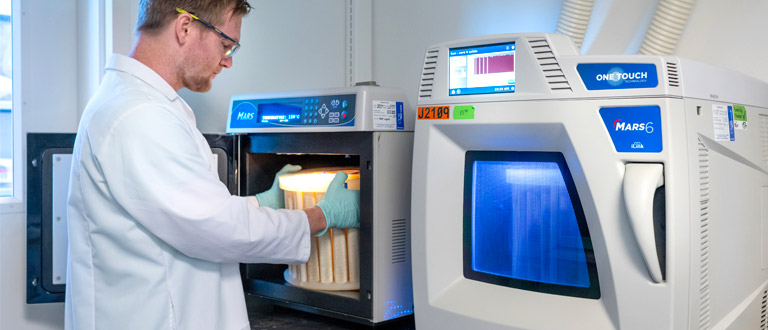 Many food products have naturally occurring metals in them, which can provide nutrition and health benefits. The human body relies on some metals in proper proportions to function. However, there are metals, particularly heavy metals, that are harmful when their quantities exceed acceptable ranges. Medallion Labs can test for metals and heavy metals to confirm that food is safe and meets stated nutritional targets. Ensuring accurate nutritional values is why tests for calcium, iron, and sodium are among the most commonly requested.
Why Do Metals Occur in Food Products?
Metals appear in food for a variety of reasons. Some occur naturally, but many are the result of contamination. That is especially true for heavy metals. They are often the result of soil contamination, chemical fertilizers, residues, and pesticides. Rice, for example, is highly susceptible to absorbing environmental factors from surrounding water and soil.
Harvest and production equipment can also be a source of metals. One such example is elevated levels of cadmium in flour.
Another significant source of heavy metals is the food chain itself. Heavy metals are bioaccumulative. When they accumulate in water, fish ingest them throughout their life, creating a hazard. In turn, consumers are affected when they eat impacted fish.
In some cases, metals such as iron are intentionally added to a product to fortify its nutritional value.
Understanding Metals and Heavy Metals
For food testing, metals are sorted into three categories: core 9 elements, trace elements, and heavy metals.
Core 9 elements are metals that are commonly found on nutritional labels. Many are also purchased as stand-alone dietary supplements. They are essential to maintain proper health and body functions. If a product seeks approval from the U.S. Food and Drug Administration (FDA), it must be tested for calcium, iron, phosphate, and sodium — all of which fall under the core 9 elements category.
What Are The Core 9 Element Metals?
Core 9 elements consist of:
Potassium
Iron
Calcium
Sodium
Copper
Phosphorus
Magnesium
Manganese
Zinc
Trace elements are elements the body also requires to function properly. As their name suggests, the body needs these metals in smaller (trace) amounts than the core 9 elements. The only time trace element testing is required is when satisfying an FDA or U.S. Environmental Protection Agency (EPA) regulation, such as lead in water.
What Are Trace Element Metals?
Trace elements include:
Aluminum
Boron
Barium
Chromium
Cobalt
Molybdenum
Nickel
Antimony
Selenium
Tin
Organizationally, heavy metals are a subset of trace elements. They have a high density compared to water, which explains their categorization as heavy metals. Beyond their density, heavy metals also differ because they present a danger to the body by inducing toxicity at very low levels of exposure.
What Does A Heavy Metals Test Look For?
Mercury
Lead
Arsenic
Cadmium
Testing Options for Metals and Heavy Metals
Medallion Labs has three test screens available to identify the occurrence and amount of metals in food products. These include our Heavy Metals Package Test, Metals Screen I Test, and Metals Screen II Test. You will notice that some metals occur in multiple screens. You'll want to identify the tests that best align with your needs and budget.
Heavy Metals Package Test
When testing for arsenic, cadmium, and lead, samples are prepared by microwave closed vessel digestion with nitric acid. Solutions are infused into an ICP-MS instrument to perform identity and quantitation based on the linear response of the elements using calibration standards containing the elements with internal standards.
When testing for mercury, solid or liquid samples are dried and thermally decomposed in a continuous flow of oxygen, and the combustion products are passed over a hot catalyst bed. The remaining decomposition products are carried to a gold amalgamator that selectively traps mercury. After the removal of any remaining gasses or decomposition products, the amalgamator is rapidly heated to release the mercury in vapor form. The vaporous mercury is analyzed using atomic absorption spectrophotometry at 245 nm with quantitation as compared to a calibration curve.
While trace metals are grouped with heavy metals, they are not included in the Heavy Metals Package Test. That test is used for:
Mercury
Lead
Arsenic
Cadmium
An important note about ensuring accurate results: before conducting a heavy metals test, Medallion Labs places the food sample into a centrifuge. This removes silicates that could enhance or suppress certain elements, creating inaccurate results.
Trace Metals Testing
While trace metals are part of the heavy metal group, they are not part of the heavy metals package test. Instead, Medallion Labs conducts specific tests for each trace metal separately. You can learn more about each test here:
Metals Screen I Test
This is the most value-packed metal test offered by Medallion Labs. This single test can fulfill four items on a nutritional label. Food samples are prepared by microwave closed vessel digestion with nitric acid. Solutions are infused into an ICP OES and quantified based on an external standard calibration curve.
Used for:
Potassium
Iron
Calcium
Sodium
Metals Screen II Test
Medallion Labs prepares by microwave closed vessel digestion with nitric acid. Solutions are infused into an ICP OES and quantified based on an external standard calibration curve.
Used for:
Potassium
Iron
Calcium
Sodium
Copper
Phosphorus
Magnesium
Manganese
Zinc
Sample Restrictions and Testing Limitations
Because all three testing options at Medallion Labs utilize a microwave, we do not analyze supplements, oil samples, glycerin, alcohols, etc.
The Medallion Labs metal tests are very encompassing. They report the total amount of metal and are not selective as to the source. For example, when measuring sodium, we quantify the sodium from sodium chloride (table salt), as well as other sources of sodium that are naturally found in many food products. This same principle applies to arsenic speciation, which is why we can't offer that test.
Despite concerns within the industry about heavy metals, Medallion Labs does not test cosmetics.
Comparing ICP-OES to AAS
Many people in the food industry are familiar with using atomic absorption spectroscopy (AAS) for testing metals such as calcium, iron, sodium, and others. Medallion Labs uses Inductively Coupled Plasma Optical Emission Spectroscopy (ICP-OES) for our Metal Screen I and Metal Screen II tests.
AAS measures the amount of light wavelengths absorbed by a metal. In contrast, ICP-OES measures the light emitted by the metals in a sample. Both are viable options, but our ICP-OES is among the fastest and most precise testing units ever made. The combination of accuracy and speed makes it a favorable testing choice for Medallion Labs customers.
Our Experts Make Metal and Heavy Metal Testing Successful
When considering Medallion Labs for metal and heavy metal testing or other lab services, we suggest referring to our tech data sheets and online order form for the latest details. Our breadth of testing options helps you maximize your testing budget by providing the results you seek in a cost-efficient manner.
Medallion Labs is ISO accredited and ready to use our testing options, expertise, and skills for your testing needs. Connect with us or call 1-800-245-5615 to discuss the criteria and testing needs for your food and agricultural products.
Let's Get to Work!
Submit your order online and ship your samples today. If you have questions, we are always here to help.
---
Medallion Labs+
A food testing program designed with mid-market and enterprise food and ingredient manufacturers in mind.